Apartment for families
In the rustic farmhouse of the property we rent a large apartment consisting of a kitchen-dinning room, a big bathroom and two spacious bedrooms: one double with possible addition of an extra bed for a child and the other with two single beds or one double.
It has a small private garden with table and chairs and a long balcony with direct access fom the main bedroom
Batteria da Cucina e stoviglie
WE speak
Curiosity
The current building was originally a humanistic Cabinet, then expanded in 1860 and converted, after being hardly damaged in the WWI , into a farmhouse and storage of agricultural tools.
Its construction dates back to the beginning of the nineteenth century and was made up of two rooms and a stone staircase leading to the upper viewpoint, overlooking sull'orangerie. Here G.A. Bridi, after having gathered many portraits and engravings of scientists as well as many memories of historical events. This was a place of meetings and reflect on arts, religion, philosophy and music.
Where we are
Brenner motorway A22, Rovereto Nord exit, then follow the directions on the map (click on it to enlarge).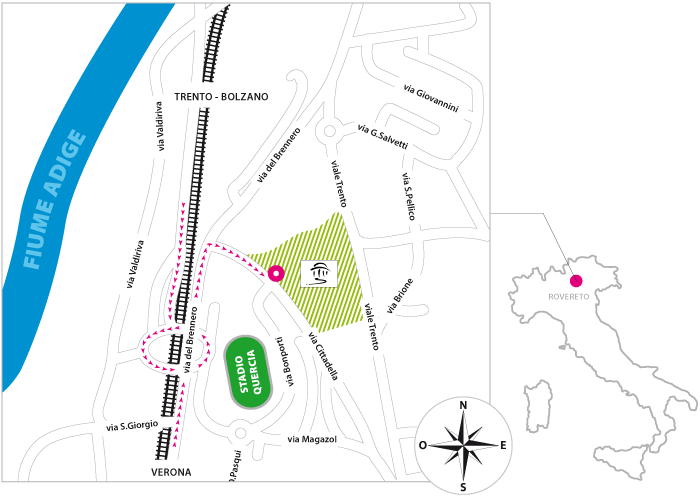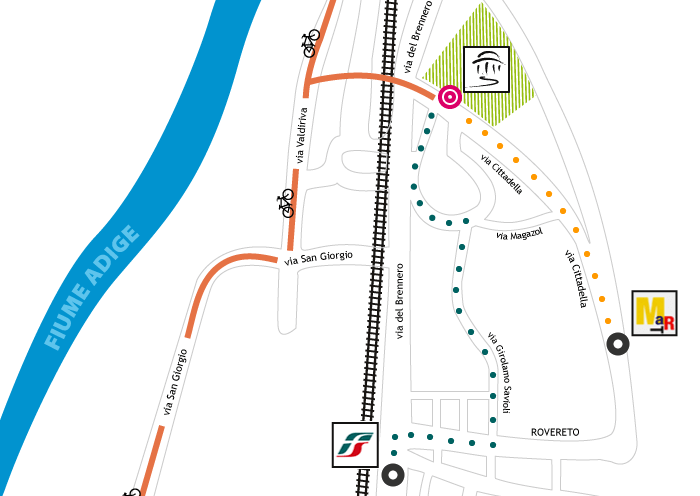 Coordinate SATELLITARE: N 45°,54.189' - E 11°,02.298'
Distances:
100mt from stadium
200mt from bicycle path
1,2 km from the MART, museum of modern art and contemporary art, library and auditorium Melotti
2,5 km from the railway station
1 km from the clinic Solatrix
3 km from the hospital
1,3 km from the Theatre Zandonai, and by the Faculty of Cognitive Sciences, University of Trento